How to Respond in a Tough Situation

Being in a car accident is the last thing anyone wants - but when it does happen, there are ways of making sure that the legal and insurance issues are handled with as little stress as possible.
First of all - stay calm.
If someone is injured, be sure to call for medical help.
Make sure you call the police.
Don't publicly make any statements where you either accuse the other person of causing the accident or take all the blame yourself. It could open you up to legal problems.
Whatever you do, don't leave the scene until you've had a chance to talk with the officer and you've gotten their name. It's important to make sure that your side of the story goes on the record. Afterward, it's a good idea to get a copy of the police report.
Make sure you have a pre-printed copy of your insurance information in the glove compartment, along with a camera you can use to provide pictures for the insurance company. A disposable camera with a flash for nighttime or interior shooting is usually best for this.
In dealing with the other driver, make sure you get their name, address, driver's license number and insurance information - and that they get the same information from you.
Also, make sure to get information from any witnesses as well.
Make sure you get pictures of any physical evidence of what could have caused the accident.
Write down pertinent details such as where the accident took place, what the weather was like, etc.
Once the information's exchanged, report the accident to the insurance company immediately, even if it's not your fault.
Make sure you understand how you're covered, and don't be afraid to ask the insurance company to explain the conditions of your coverage and payments.
Don't be afraid to seek legal advice - and don't sign anything if you don't understand it.
When you're using a body shop to get repairs to your vehicle, be aware that the insurance company can recommend a shop, but you are under no legal obligation to use its services. You have the legal right to choose the shop to do your repairs.
Also be aware that insurance companies sometimes try to dictate what type of parts are used in a vehicle's repair. They might insist that a shop not use Original Equipment Manufacturer (OEM) parts, as they are more expensive.

You have a right to know what kind of parts are being used on your vehicle, and to know if your insurance policy dictates what kind of parts can be used in your car. If your policy lets you choose, you have the right to decide for yourself.
An insurance company also has the right to inspect your vehicle, but it is not required to do so. In addition, they cannot require you to visit one of their own claim centers.
And finally: Make sure you learn from this accident, but also let yourself move on from what happened. Everyone has an accident once in a while - it's just something that happens.
Remember - Drive Safely!

Want more information on your rights? To make an appointment, call us at 330-784-1041 or make an appointment online!
What our clients are saying about us
We have established longterm and stable partnerships with various clients thanks to our excellence in solving their automotive needs!
More Reviews

I called a few days ago to set up an appointment for new tires/ alignment. I was told I could be there at 8:00 am and I would be done by 10:30. To make a long story short, no fault of Zehners, the new tires did not arrive on time and I was informed of that the day before. I was offered a better quality tire for the same price I planned on paying. At 10:30 I was told those tires never showed up. Needing to make a prior appointment at 11:00 am they offered me their company S10 to do my errands. I used that truck for 2.5 hours to get my taxes done, etc. I used to go to another place where I received a considerable discount but you just can't beat the expertise, quality, and honesty. You really can't put a price tag on what it means to have the peace of mind you will be treated fairly and honestly each and every time. They honor their work and back it with a guarantee. No where else I'll ever go to get my vehicle worked on! It didn't go as planned but you made it more than right! Thanks again!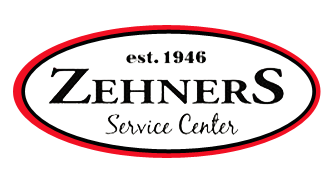 I have worked for Goodyear Aerospace, Loral and Lockheed Martin the past 36 years and the one constant during those years has been Zehner's Service Center for all my vehicle repairs. Starting with Ron at the front desk through all the mechanics at the center the atmosphere is friendly and professional. A few of the best qualities are that they listen to you and are honest about the work required. Depending on the situation with each individual vehicle they will advise the customer on work is required as well additional concerns, with no pressure for agreed upon work. Mechanics look at each vehicle for safety of the customer and suggest options for repairs with first priorities and later concerns. Bottom line; I have never had reasons to look anywhere else for servicing my car/truck repairs than at Zehner's Service Center.