Tires are the single most important safety feature on your car. They are the only thing that connects the car to the road, and life-saving technologies like antilock brakes and electronic stability control cannot do their job if the tires don't have a good grip on the pavement.
As the adage goes, nothing lasts forever. Car owners still need to replace their tires a few times or more throughout the life of a typical vehicle. Despite advances in longer-lasting tires, actual tread life will vary by car type, tire type (such as all season or high performance), driving aggressiveness, and even road and weather conditions. Proper maintenance and responsible driving can maximize the mileage in a set of tires.
We offer these services to help you prolong the life of your tires.
We Offer Most Major Brands of Tires
At Zehner's Service Center, we understand that tires are an important part of your car. The quality of tires and material used on them highly affects the vehicle's performance. Their main purpose is to protect the wheel's rims and improve vehicle performance. For this reason, we only deal with brand name tires. Also, we offer fleet tire management services to ensure you are getting the best value, fuel economy, and life from your tires.
Once a need for new tires is determined, it is necessary to identify the best tires for your vehicle and driving demands. Look for tires that do well in tests for braking, handling, and resistance to hydroplaning. Winter traction should also be considered, if applicable. Let tread wear, ride comfort, noise, and rolling resistance be tiebreakers. Trust the tire experts at Zehner's Service Center to help you choose the right tires for your vehicle.
We offer most major brands of tires. These are a few of our preferred brands.




What our clients are saying about us
We have established longterm and stable partnerships with various clients thanks to our excellence in solving their automotive needs!
More Reviews

I called a few days ago to set up an appointment for new tires/ alignment. I was told I could be there at 8:00 am and I would be done by 10:30. To make a long story short, no fault of Zehners, the new tires did not arrive on time and I was informed of that the day before. I was offered a better quality tire for the same price I planned on paying. At 10:30 I was told those tires never showed up. Needing to make a prior appointment at 11:00 am they offered me their company S10 to do my errands. I used that truck for 2.5 hours to get my taxes done, etc. I used to go to another place where I received a considerable discount but you just can't beat the expertise, quality, and honesty. You really can't put a price tag on what it means to have the peace of mind you will be treated fairly and honestly each and every time. They honor their work and back it with a guarantee. No where else I'll ever go to get my vehicle worked on! It didn't go as planned but you made it more than right! Thanks again!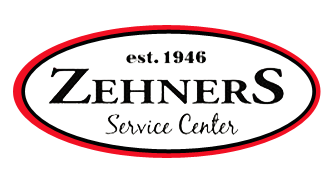 I have worked for Goodyear Aerospace, Loral and Lockheed Martin the past 36 years and the one constant during those years has been Zehner's Service Center for all my vehicle repairs. Starting with Ron at the front desk through all the mechanics at the center the atmosphere is friendly and professional. A few of the best qualities are that they listen to you and are honest about the work required. Depending on the situation with each individual vehicle they will advise the customer on work is required as well additional concerns, with no pressure for agreed upon work. Mechanics look at each vehicle for safety of the customer and suggest options for repairs with first priorities and later concerns. Bottom line; I have never had reasons to look anywhere else for servicing my car/truck repairs than at Zehner's Service Center.