Engine maintenance is vital to keep your car or truck operating at peak performance. It also impacts the longevity of your vehicle's engine. Trust the experts at Zehner's Service Center to help you protect your investment. Call us at 330-784-1041 or visit our shop in Akron 44306.
These are some of the engine maintenance services we offer.

Fuel Injection
Fuel injection is a system for admitting fuel into an engine. Since 1990, fuel injectors have completely replaced carburetors as the primary means of getting gasoline into the engine. A fuel injector atomizes the fuel by forcibly pumping it through a small nozzle (under high pressure). Failure of the fuel injection system means poor performance and ultimately destroys the engine. Make sure your vehicle's fuel injection system is maintained properly. For all your fuel injection maintenance and replacement needs, call 330-784-1041 or visit Zehner's Service Center today.
Ignition
An ignition system is a system for igniting (using an electric spark) a mixture of fuel and air in a gasoline engine. A properly working ignition system means a properly starting engine and high performance from your car. For all your ignition system maintenance and replacement needs, call or visit Zehner's Service Center today.
Ignition Wires & Cables
Ignition cables also known as spark plug wires are an important part of your car's ignition system. They transfer the spark from the ignition coil to spark plugs that ignite the mixture of fuel and air. The mixture starts the engine. Over time, ignition wires and cables get weak and break down. This makes it impossible for the spark to reach the engine cylinders. This results in the engine misfiring. The car will eventually fail to start. If it does start, it will run poorly. Common symptoms of faulty ignition cables and wires are: poor gas mileage, engine misfires, engine light is on, and engine may vibrate. If your car needs new ignition cables and wires, call or visit Zehner's Service Center in Akron, OH 44306. Here, you will have the wires and cables changed by a top-rated mechanic.
Spark Plugs
A spark plug delivers electric current to the combustion chamber from the ignition system. Spark plugs that haven't been changed for a long time can cause ignition problems. At Zehner's Service Center, we have automotive experts who will check and replace your spark plugs. For all your spark plug repair or replacement needs, call 330-784-1041 or visit Zehner's Service Center today.
To learn more about our Engine Maintenance services, call us at 330-784-1041 or request a quote by clicking below:
Request Quote
What our clients are saying about us
We have established longterm and stable partnerships with various clients thanks to our excellence in solving their automotive needs!
More Reviews

I called a few days ago to set up an appointment for new tires/ alignment. I was told I could be there at 8:00 am and I would be done by 10:30. To make a long story short, no fault of Zehners, the new tires did not arrive on time and I was informed of that the day before. I was offered a better quality tire for the same price I planned on paying. At 10:30 I was told those tires never showed up. Needing to make a prior appointment at 11:00 am they offered me their company S10 to do my errands. I used that truck for 2.5 hours to get my taxes done, etc. I used to go to another place where I received a considerable discount but you just can't beat the expertise, quality, and honesty. You really can't put a price tag on what it means to have the peace of mind you will be treated fairly and honestly each and every time. They honor their work and back it with a guarantee. No where else I'll ever go to get my vehicle worked on! It didn't go as planned but you made it more than right! Thanks again!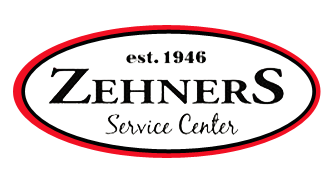 I have worked for Goodyear Aerospace, Loral and Lockheed Martin the past 36 years and the one constant during those years has been Zehner's Service Center for all my vehicle repairs. Starting with Ron at the front desk through all the mechanics at the center the atmosphere is friendly and professional. A few of the best qualities are that they listen to you and are honest about the work required. Depending on the situation with each individual vehicle they will advise the customer on work is required as well additional concerns, with no pressure for agreed upon work. Mechanics look at each vehicle for safety of the customer and suggest options for repairs with first priorities and later concerns. Bottom line; I have never had reasons to look anywhere else for servicing my car/truck repairs than at Zehner's Service Center.